In order to help us to process your request more efficiently and enable us to respond to you promptly, please select the appropriate option(s) listed below to contact us.
Donations
Print a donation form. (Please follow the mailing directions on the form.)
Shelters
Send an e-mail request for information on how to become a participating shelter.
Information
Send an e-mail request for brochures or other printed information about Pets For the Elderly.
Snail Mail!
Pets for the Elderly Foundation
Attn: Missia Vaselaney
200 Public Square, Suite 3500
Cleveland, OH 44114-2302
Phone
480.625.4679
Email
Email our Executive Director, Susan Kurowski: susan@petsfortheelderly.org
A note about privacy
At Pets for the Elderly, we recognize the importance of protecting information we may collect from visitors to our site. Our policy is to use the information we acquire from visitors to our site for internal purposes only, and we maintain appropriate security measures to keep this information private . All information we receive during ordering and registration is kept strictly confidential. We respect and protect the privacy of those who use our web site.
Our Partner Shelters
To date, PFE works with 53 shelters in 31 states. Our partner shelters are committed to supporting and implementing our mission and our dedicated to saving the lives of shelter animals in their own right.
Find a Shelter Near You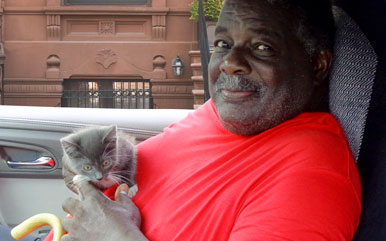 Articles & Research
While any pet owner can certainly attest to the many benefits of living with a furry friend, research confirming the health benefits of senior pet ownership have appeared in many well-respected publications and medical journals.
Learn More
Our Leadership
The Pets for the Elderly Board of Trustees is comprised of leaders who personally knew Avvy Katz and understand the importance of his mission. The leadership team is committed to ensuring that Mr. Katz' legacy continues.
Meet the Team